How AdTours Work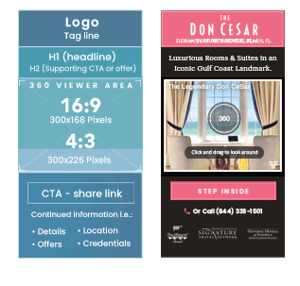 AdTours are display ads that layer your virtual tour within a standard ad frame. For each ad panel to be enabled with a virtual tour, Threshold 360 provides the agency or customer with a set of Links and/or JavaScript code that automatically download the virtual tour content and embedded viewer on demand. Agencies and Customers can add design elements and additional layers, including Calls to Action, and then publish it through any standard ad platform.
The Creation Process
The creation and delivery of AdTours is a straightforward 4-step process, enabling the Agency or DMO to have complete creative control over each ad, to ensure it fits seamlessly into the target campaign.

Design & Layout
AdTours can be easily created and customized using standard JavaScript, and seamlessly fit into almost any campaign. Threshold also provides several standard pre-built templates (Click to download the ZIP file-140KB) for customers and agencies to use as a guideline when creating ads. Threshold recommends using a subset of the standard IAB-standard banner ad sizes - especially popular sizes such as 300x250 and 300x600. These sizes are gauged to provide maximum likelihood of interaction on the part of the ad viewer, while also ensuring that the 360 experience isn't compressed into too small a space.
Next Steps
Please visit http://www.threshold360.com/ads to begin the process!
For any questions please feel free to contact our sales or support teams at info@threshold360.com.